4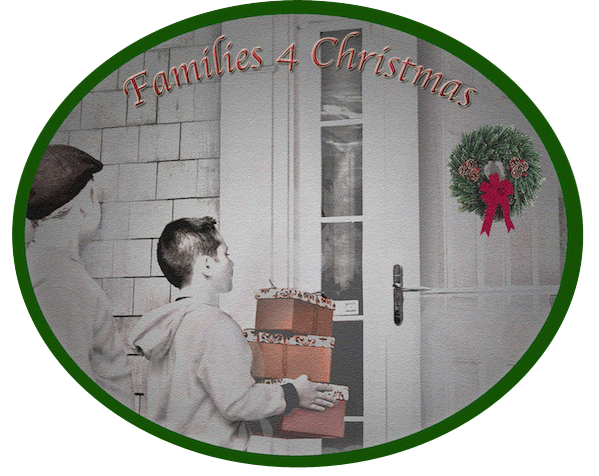 "Families Helping Families

"
Regardless of what our own religious affiliations are about and what the holiday season is all about, we practice a common viirtue, "Give" and "Care" for our fellow neighbors that may need a helping hand through difficult times. We are a 100 % volunteer organization!
FALL FUND RAISER
​
​Each year we hold a Fundraiser to raise money so that we can reach out and assist more families. We have dedicated ourselves to strive to impact more families with eacy year that passes. This allows us to broaden our territory span with more towns and more families. If you have volunteered for Families4Christmas in the past, whether it be the "Wrapping Party", "Deliveries", or the "Food Packaging", you realize the impact that we have had on both the families that we were able to reach out and touch or the impact it has had on our own family by teaching our children the charitable gift of helping others.
Other Events: will be posting on this site, as the informationis available.
PURCHASE TICKETS TODAY!
SPONSORSHIP
​
Our sposors are critical to our mission. This could not happen without them! Every dollar a sponsor gives goes directly to help families in need. The great part of sponsoring Families 4 Christmas is that your dollars go ot providing vital missions. One is that we provide hope, food, presents and a sense of caring to those familiies that we assist. Two is that we provide an education to the meaning of giving and getting involved to our chidren. They have a real hands on approach. The children wrap, deliver and package the food. Please help us through your generous contributions. We are a 501c charity and all donations are tax deductible.
BECOME A SPONSOR TODAY!
PLEASE GO TO OUR SPONSORS LEVEL PAGE FOR MORE INFORMATION
WRAPPING PARTY
​
​
This wonderful event highlights the work of our children. The children participate by helping unload the trucks and wrapping the gifts. Its a fun event filled with music, dancing and food. The wrapping party is a collaboration of volunteers, coming together to donate their time and good cheer for a wonderful charity.
DELIVERING
​
​
This is such a great day when all of our hard work comes together by making the deliveries to the families. The stories of gratitue and hope with a sense of accomplishment comes from the famiies we deliver to and to the families involved. To watch our children get up early and look forward to going out and helping other people is incredible! To see a father who got layed off of work, and was out of options, come to tears as our children deliever food and presents is what makes this charity worth it. My son said it best at the age of 7 , "I don't know how to explain it Dad, I just feel good".
PACKING THE FOOD
​
​
This is an event that is so much fun to do. This has turned out to be a father and son event that builds memories for the years to come. Last year we had roughly 40 men, half of them with their sons of all ages (age7-30), working hand and hand to help other people. We had three truckloads of food that needed to be unloaded, unpacked, separated and put into over 500 boxes for delivery. The best thing was through all the hard work there was a sense and good feeling of what we were doing. Music was playing and pizza was delivered. They say a picture is worth a thousand words and actions speak louder. I cannot see a better way to teach our chidlren than to get involved and show them the way. Please join us with your family.
OTHER EVENTS
​
​Check back soon for other events that will be posted.